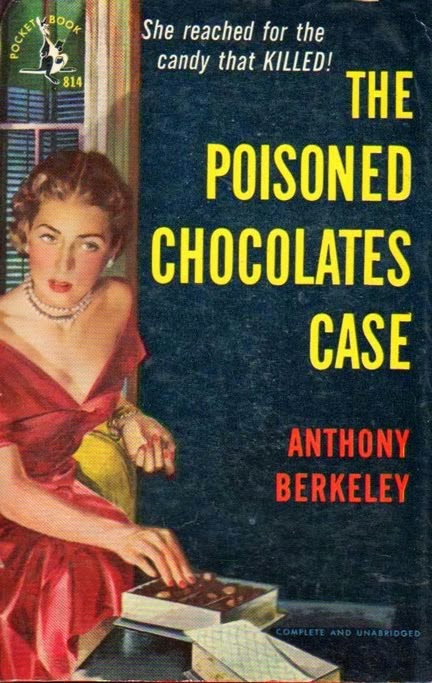 It might seem odd to think that Alfred Swaine Taylor, who died in 1880, could have anything to do with Anthony Berkeley's 1929 novel The Poisoned Chocolates Case – but he does.
I had already found references to Taylor's books in some of Dorothy L Sayers' work, so it wasn't a surprise to find Taylor popping up once again in Berkeley's novel as they're both Golden Age authors who were acquainted with each other. In fact, before Taylor's name was even mentioned in the book, my own knowledge of Taylor and poisons was piqued when the symptoms brought on by the poisoned chocolates was mentioned.
I don't think it's too much of a spoiler to say that the poison used in the novel is nitrobenzene – it's mentioned quite early on. And the title of the book does somewhat giveaway the fact that poison might be involved somewhere.
I first heard of nitrobenzene in researching Fatal Evidence – when the chemical compound was first discovered, Taylor sounded the alarm. It had many purposes but was often used as a flavouring and as a scent because it mimics bitter almonds. Now, bitter almonds contains the same active ingredient as Prussic acid, and if you eat vast numbers of apple pips, or the soft centre of pips from fruit such as cherries and peaches, you'll be consuming poison. Nitrobenzene was a synthetic variant, but it was still dangerous.
As I read on, congratulating myself for already knowing rather a lot about nitrobenzene thanks to Taylor, who should be mentioned but Taylor himself? Or least, Taylor's Medical Jurisprudence? The same book which Sayers refers to in her work.