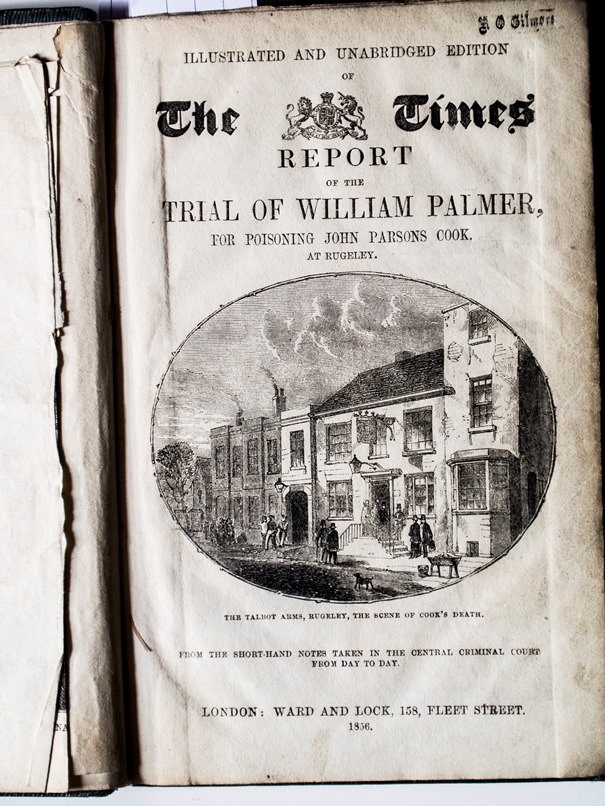 Among the many adventures I had writing Alfred Swaine Taylor's biography, I decided to track down the previous owner of a book.
I work at a well-stocked library, and was able to borrow or consult most of the books I needed for my research. But I knew of two books on William Palmer which we don't have, both of which were opportunistically cranked out by Ward and Lock just after the trial.
Their Illustrated Life and Career of William Palmer of Rugeley uses mainly old engravings which must have served time in many other books; only one of them isn't a stock image, but is the portrait of William Palmer at the races which appeared in the Illustrated Times newspaper. The tale of Palmer is told in near-novelistic style.
Their other book, the frontispiece of which you can see above, contains transcripts of the trial at the Old Bailey, taken verbatim, and apparently nicked wholesale from The Times. It's full of images which appeared in the Illustrated Times – which, despite the name, isn't connected with The Times newspaper.
I managed to buy both books online, and most of the engravings in Fatal Evidence's plates section are from the Illustrated and Unabridged Edition. It's a wonderful piece of history to have on my bookshelf, but I wondered, when I saw the neat owner's stamp on the frontispiece, who was R O Gilmore?

Geneaology detective
I thought I'd guess at his first name. Robert? Richard? Reginald? I searched FreeBMD, which is my first stop for post-1837 look-ups and couldn't find any Robert O Gilmores, Richards or Reginalds.
So I took a deep breath and searched for Gilmore as the surname and just an R in the first name box. I was rather worried at how many records this might return. I scrolled down looking for someone with a middle name beginning with O, and there he was, the only person in over 100 years of births to be R O Gilmore….
Randolph Orme Gilmore.
His birth was registered in the Stockport registration district in 1854. If this was the book's previous owner, then he was only 2 years old at the time of the Palmer trial.
My next stop were censuses, and I soon found out that Randolph had been a solicitor. Quite a wealthy one at at that – on the 1911 census, he lives in 26-roomed Norton House in Fallowfield, Manchester.
I found him in a book called Men at the Bar, which gave more detail: he was a member of the Northern Circuit, and was a student at the Middle Temple in 1879; he was called to the bar in 1882. By coincidence, the jury at the long trial were only allowed to take exercise in Temple Gardens, which is very close to the Middle Temple, and the Illustrated and Unabridged Edition even includes an illustration of the garden. Gilmore, one assumes, would have been familiar with it.
Did Randolph own the book?
With only the name, and no place or date, I cannot say for sure that my book definitely belonged to Randolph. If it had said, for instance, "Fallowfield, 1910" under the name, then it would be more solid proof. It's possible that there was once another R O Gilmore, and he was born outside England and Wales so doesn't appear in the BMD index.
But I think that, given Randolph Orme Gilmore's occupation, it is at least very likely that he's the man who once owned the book. It is a trial transcript, after all. One wonders what his interest was in William Palmer – was it its status as a famous nineteenth case which attracted him, or was Randolph studying something in particular about it? Perhaps he even worked on a poisoning trial himself?
And of course, given that Gilmore was only a toddler when the book was published, he's not its first owner. So who was that? We will never know.