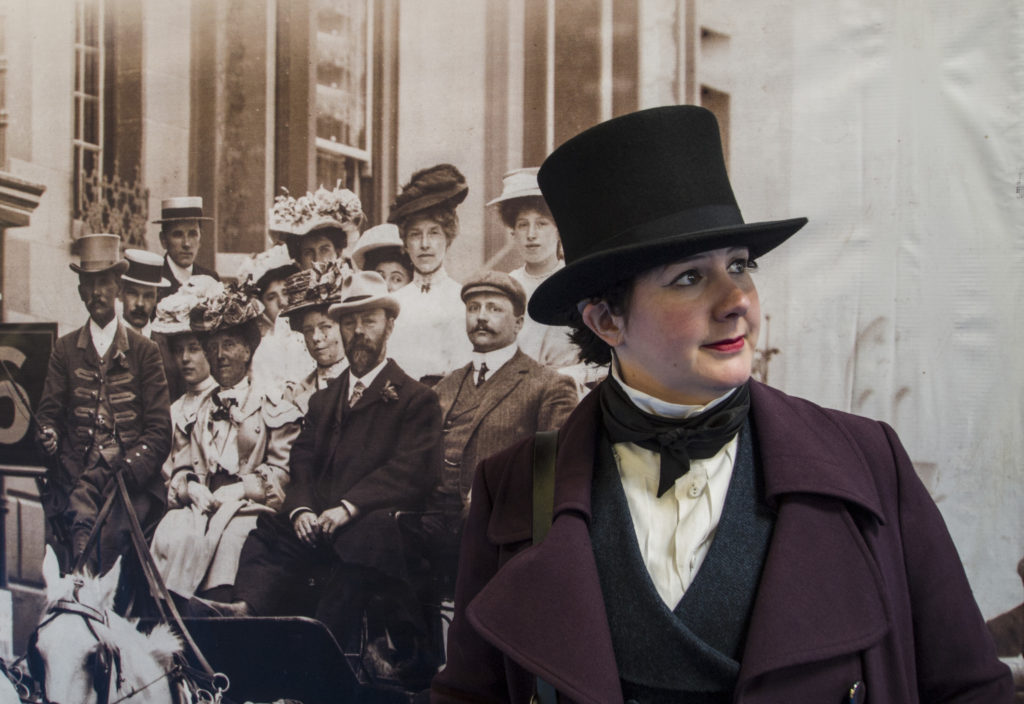 I've been rather busy over the last couple of months, zipping off to the Essex Book Festival for the Criminally Good Afternoon Tea, zooming off to the NEC for Who Do You Think You Are? Live, and then getting drunk in Edinburgh at the Crime Writers' Association conference.
I was at Who Do You Think You Are? Live on two days. The first, I was dressed as Helen Barrell, the librarian who writes books about Victorian crime. I signed copies of Poison Panic at Pen & Sword's stall, bought some acid-free storage equipment (that excited me quite a bit, because I am a massive nerd), and went my rounds of the stalls. Thanks to the good people of Peterborough & District Family History Society, I discovered two new ancestors – the parents of my 4 x gt-grandmother Susan Jones. I never thought I'd get anywhere with her background, assuming that anyone called Jones would present insurmountable problems. But no – her surname was actually quite unusual in Peterborough at the time, and I was delighted to find out that Susan, who was born in about 1813, was the daughter of a farrier in the Scots Greys! Did he go to Waterloo, I wonder, and did he shoe Ensign Ewart's horse? I helped out at the "Ask an Expert" stall – I've always loved pointing people in the right direction to find out more about their family tree.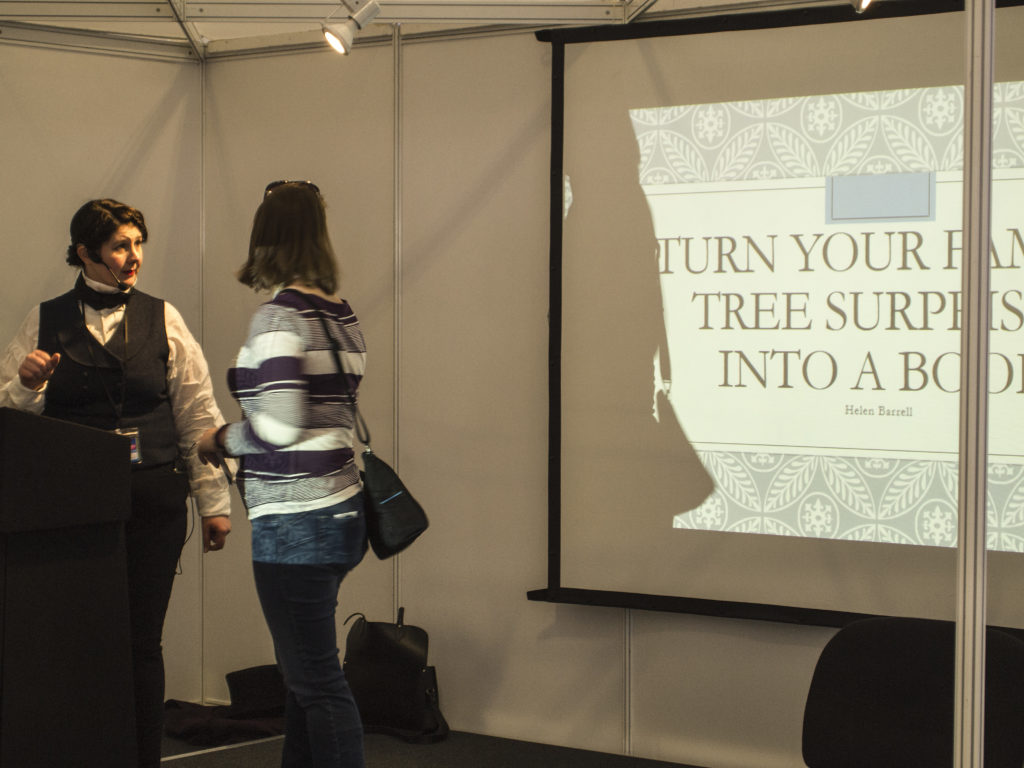 I returned on the Saturday to give my talk, How to turn your family tree surprises into a book. I hope people enjoyed it! I was no longer dressed as Helen Barrell, but as Professor Taylor's cross-dressing assistant. At Starbucks, they asked me what name to write on my cup, and I thought… well, I'm not quite Helen today, so I settled for Augustus Spratt. I have no idea where that name came from.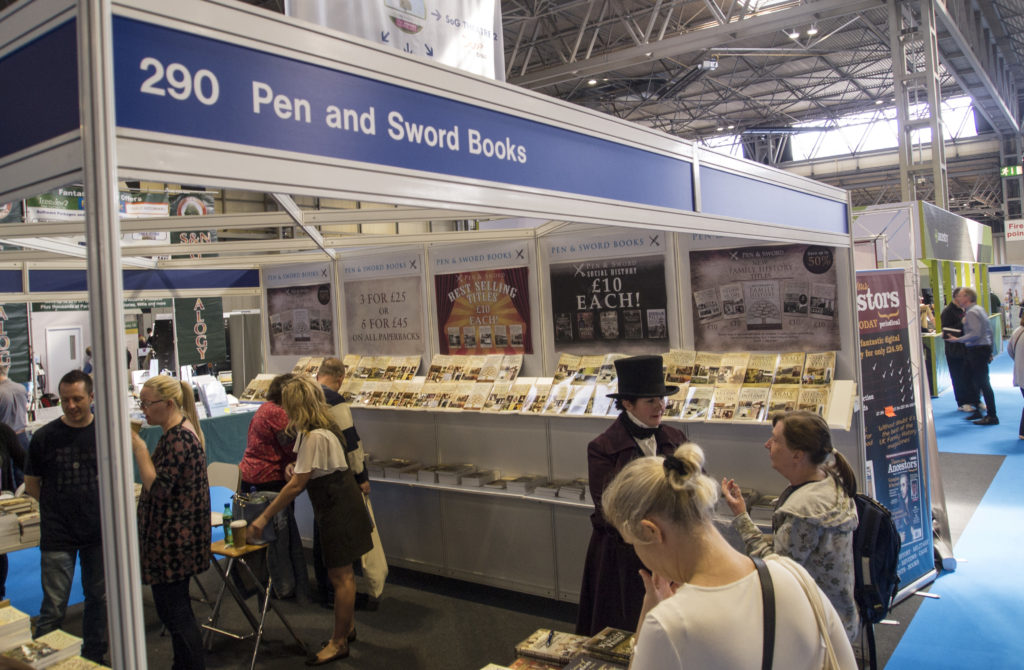 It has to be said that dressing as a nineteenth-century chap is absurdly marvellous. The linen shirt is so comfortable; the sleeves are lovely and loose, and the fabric is really cool. I wasn't over-heating even with my waistcoat and overcoat. The high collar and the cravat aren't uncomfortable either, you just get used, very quickly, to holding your head up. Which gives one a certain air of gravitas, perhaps, a certain curl to one's nostril.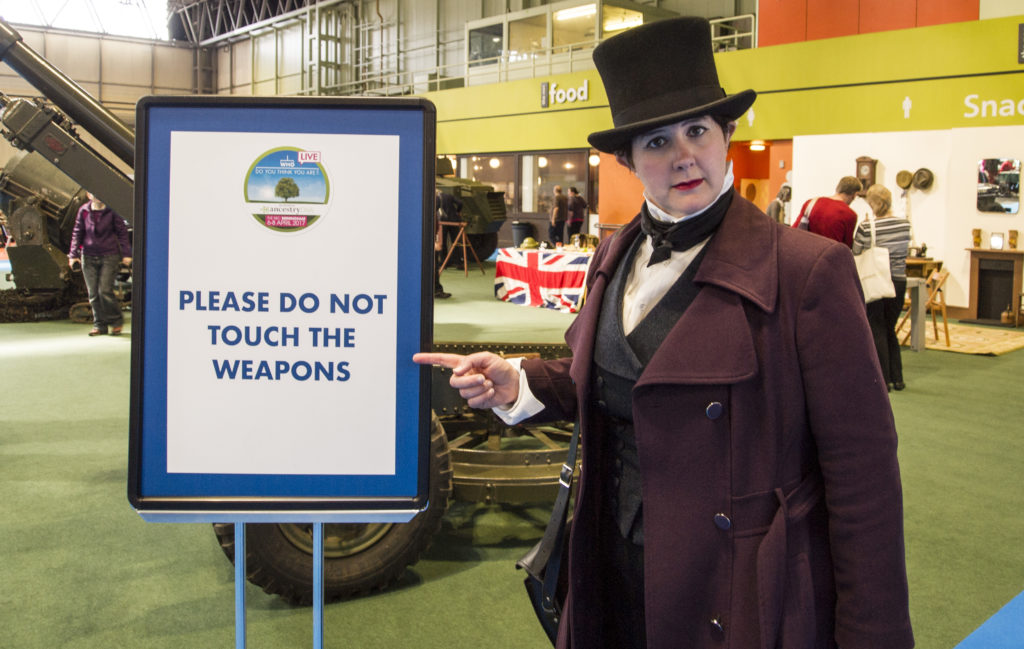 It was lovely to be asked to give my talk, and I do hope that people found it useful. I'd pitched it at the grown ups, but there was a boy in the front row who grinned all the way through – I suppose, with all the poisoners, hangings, and Witchfinders, that it was like a particularly lurid episode of Horrible Histories. It's always good to be able to connect with the next generation of genealogists and writers.
I met lots of lovely people over the couple of days I was there – the lovely chaps at Pen & Sword, all the genealogists on the stalls who helped me, the people who I in turn helped, Myko from FindMyPast (who I've known online for ages and never actually met before), Erin who I'd never encountered before but seems like fun, and Jacqui, a genealogist who I shared an interesting conversation with about the best shoes for historical re-enactment (everyone, it seems, swears by leather Clark's desert boots, from Bronze Age to early 20th century….) And, who can forget, the chap at the Starbucks concession who wrote my drag name on a cup.
Well done, all.
Unfortunately, I managed to get lipstick on my shirt, a problem for which I must ask Mr Wickham's advice….