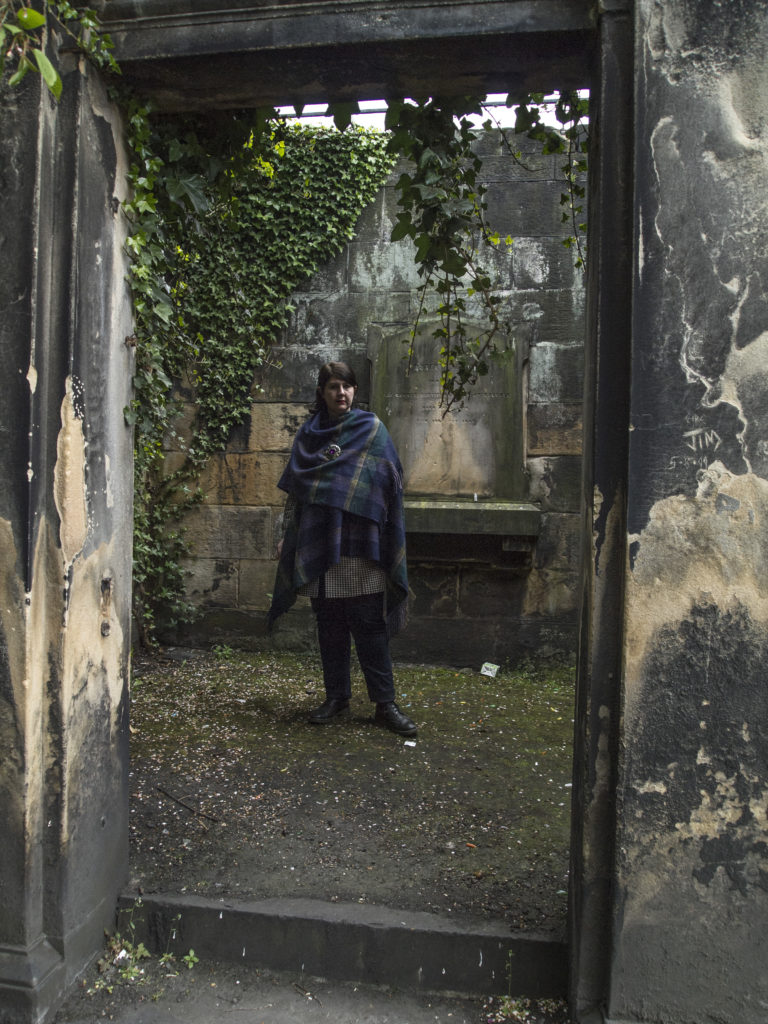 I'd wanted to go on holiday to Edinburgh for ages, and was rather pleased that I could combine it with the writing of my book, Fatal Evidence. But what does the biography of a Kent-born English forensic scientist who lived most of his life in London have to do with Edinburgh, you ask?
Well… the story of forensic science in Britain starts in Edinburgh. Although medicine and science had been used to crack crime in Britain before, there was no formal teaching of 'medical jurisprudence' (the intersection of medicine and the law) in this country; the British had to look to the Continent. It was at the University of Edinburgh in 1789 that the first lectures in Britain had been given on the subject. Andrew Duncan, the first lecturer in the subject, had an uphill struggle to see his specialism recognised, despite his urging of its importance:
…to every medical practioner, who is liable to be called upon to illustrate any question comprehended under it before a court of justice.
The first professor of medical jurisprudence at Edinburgh was Duncan's son. It was only an elective course, rather than compulsory, and medical students just weren't that interested.
In 1822, Dr Robert Christison, a 25-year-old Edinburgh native, took the chair and became professor of medical jurisprudence. His uncle helped him to the position but, despite such outrageous nepotism, Christison was actually very good at the subject. His background in both medicine and chemistry made him an ideal candidate – as did Alfred Swaine Taylor's same background when a chair of medical jurisprudence came up at Guy's Hospital in London.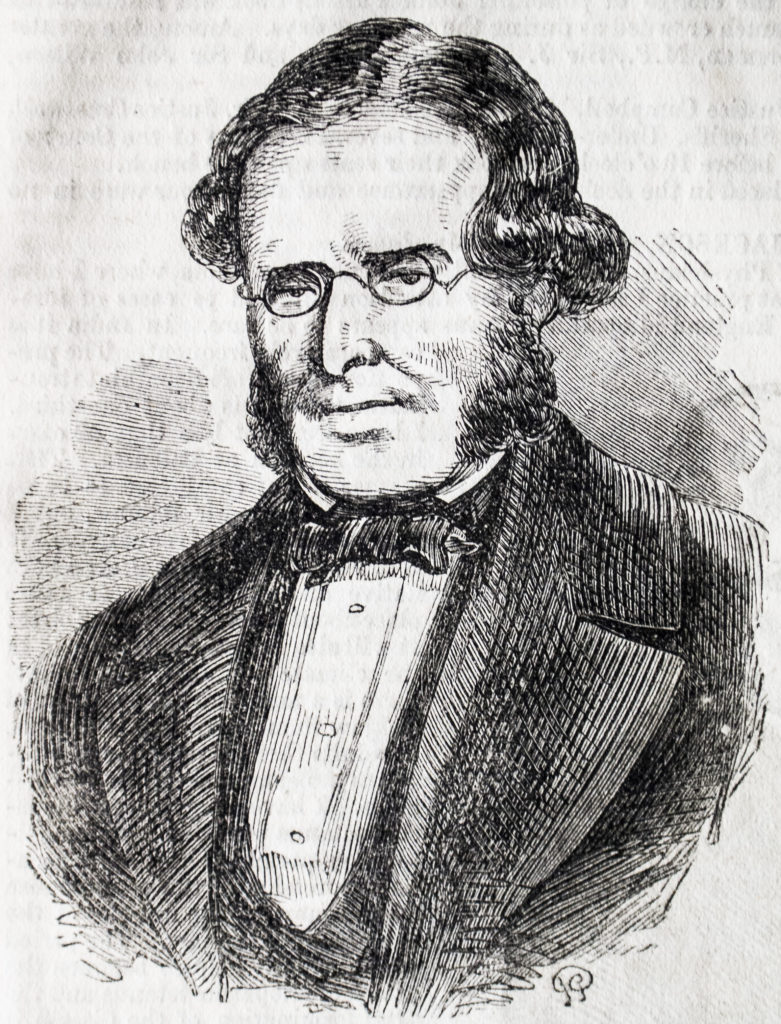 Christison, like Taylor, had been to Paris, and he knew the work of Orfila, the French toxicologist. In 1823, Christison co-wrote a paper on oxalic poisoning, and he began to be called in as an expert witness by defence counsels at murder trials. But his lectures were poorly attended – his classes had started off with twelve students, but by 1825, the numbers dwindled so drastically that he ended up with only one. That same year, perhaps driven by his diminishing class size, Christison petitioned the University to make medical jurisprudence an optional subject in medical degrees.
His most famous hour – besides going toe-to-toe with Sophia Jex-Blake because he was determined that women should not study medicine at University – was the trial of Burke and Hare. The trial was already ghoulish enough – they had been murdering people, selling their corpses to the Medical School at which Christison worked for dissection, answering demand that the combined forces of the hangman and the Resurrection Men could not. But Christison made it even more ghoulish by beating corpses with sticks to find out how the body bruised after death.
The story of Christison and the corpses lingered long in the minds of many: Sir Arthur Conan Doyle recycled it for the first ever Sherlock Holmes story, A Study in Scarlet:
"… He appears to have a passion for definite and exact knowledge."
"Very right too."
"Yes, but it may be pushed to excess. When it comes to beating the subjects in the dissectingrooms with a stick, it is certainly taking rather a bizarre shape."
"Beating the subjects!"
"Yes, to verify how far bruises may be produced after death. I saw him at it with my own eyes."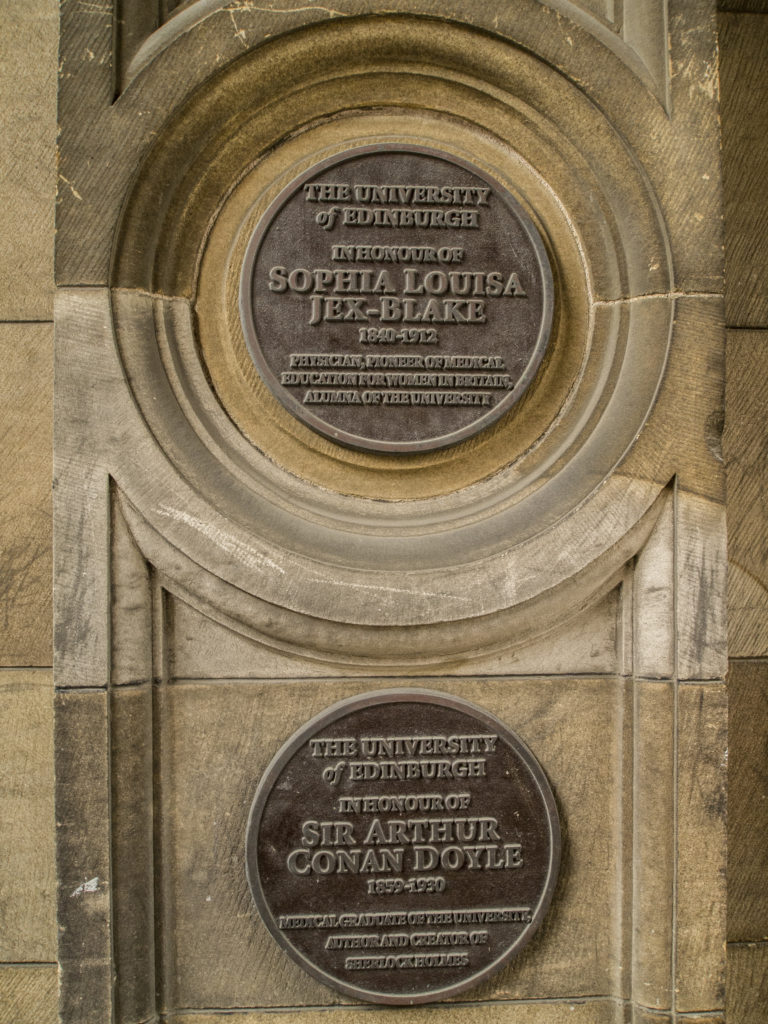 In 1829, Christison penned A Treatise on Poisons; it had gone through four editions by the time of its last in 1845. He and Taylor were the acknowledged toxicological experts in nineteenth-century Britain, and worked on a couple of cases together in the mid-1850s. If you had a poisoner on your hands in Scotland, you applied to Christison; if in England, then Taylor was your fellow.((There were of course other men, such as Herapath, Letheby and Image, but Taylor, with his many books and articles on medical jurisprudence and toxicology, was the most well-known.))
As Christison pops up in Fatal Evidence, it seemed only right whilst in his city to visit some of his haunts.
We had a wander around the University, although somewhat tentatively given that it was the middle of the exams. A bust of Christison stands on a windowledge in the Old College, but the room is used for exams, so we couldn't go to see it. So we went to the Surgeons' Hall Museum. There's very little on Christison there, but what we did see was helpful in getting a feel for medicine during Taylor and Christison's time. The dissection theatre was particularly fun, and we saw a book bound with Burke's skin. Lovely.
I'd been for a walk around Edinburgh's New Town – the grand Georgian extension – on my first visit, but hadn't had time to look around properly. I decided it would be interesting to see where Christison lived, to see how it compared to where Taylor lived in London.
I'd found three addresses in the New Town for Christison: 3 Great Stuart Street in early 1830s, 5 Randolph Crescent on the 1841 census, and 40 Moray Place from the 1851 census until his death in 1882. It's entirely possible that the house numbers have changed since he lived there, but it was interesting to walk along the streets that he had done all those years before.
And how do Christison's abodes compare to Taylor's addresses? Christison's English counterpart lived in a Georgian Nash terrace on Regent's Park, and later a plush Victorian terrace on the north side of the Park, so it's fair to say that the two men lived in similar parts of town in their respective cities.
As you can see, he didn't really move very far, as Great Stuart Street and Moray Place are right next door.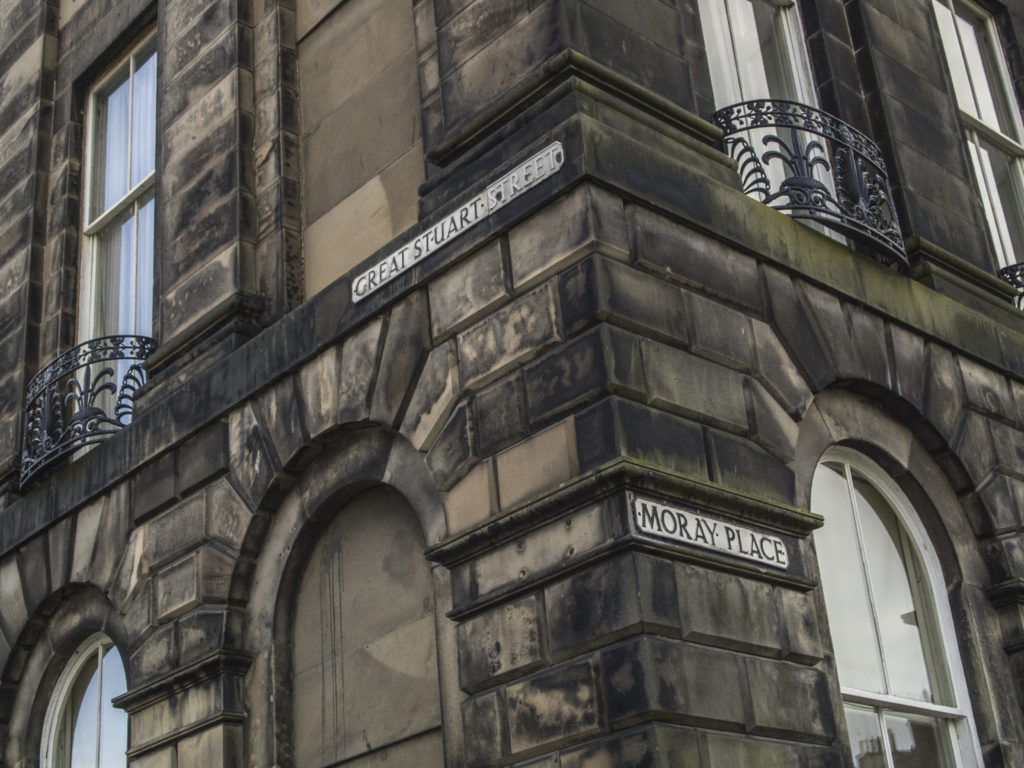 Zooming out a bit, you can see that corner in context – Great Stuart Street is on the left, and Moray Place on the right.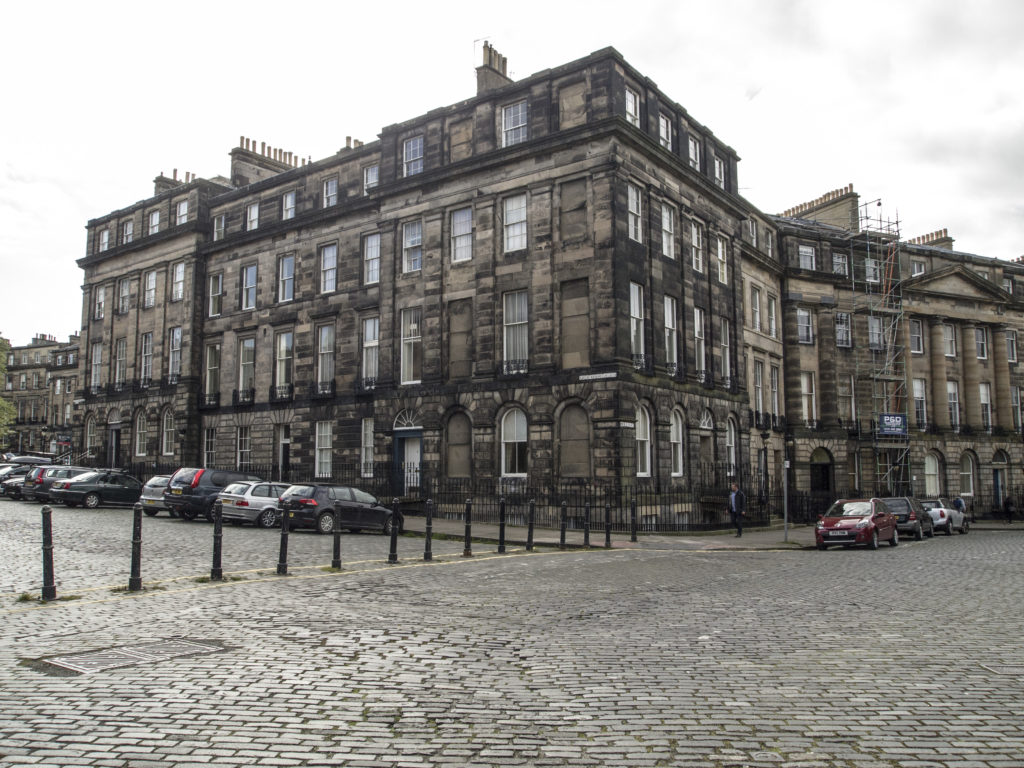 And one more, just because Moray Place is gorgeous: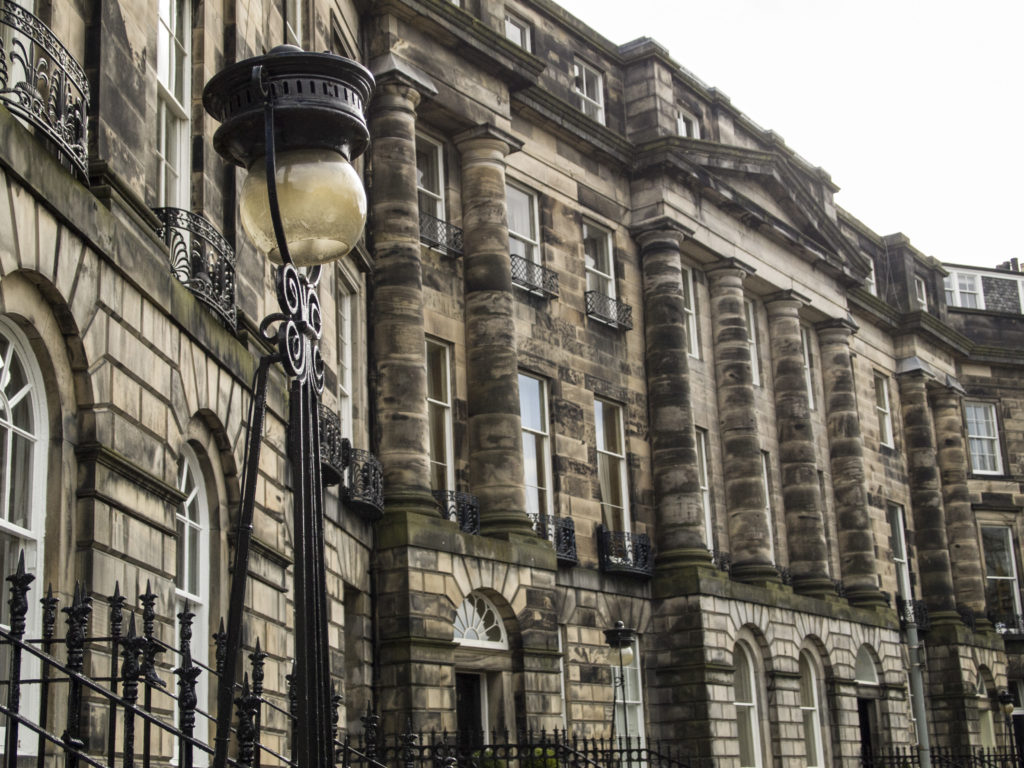 I couldn't resist visiting the famous historic graveyards of Edinburgh – sadly Old Calton was closed,((I finally managed to visit when in Edinburgh this April for the CWA conference.)) but that still left me with Greyfriars and New Calton. Christison's father, Professor Alexander Christison, was buried at Greyfriars. There are some splendid tombs there, many of which look to my English eyes like fireplaces – was this intentional, as if the tomb is the home of the dead? Harry Potter fans might like to know that J K Rowling used to walk through Greyfriars, and several of her characters are named after the kirkyard's residents. Even George Heriot's School, which can be reached via a gate from the kirkyard, appears to have been the basis for the school for wizards.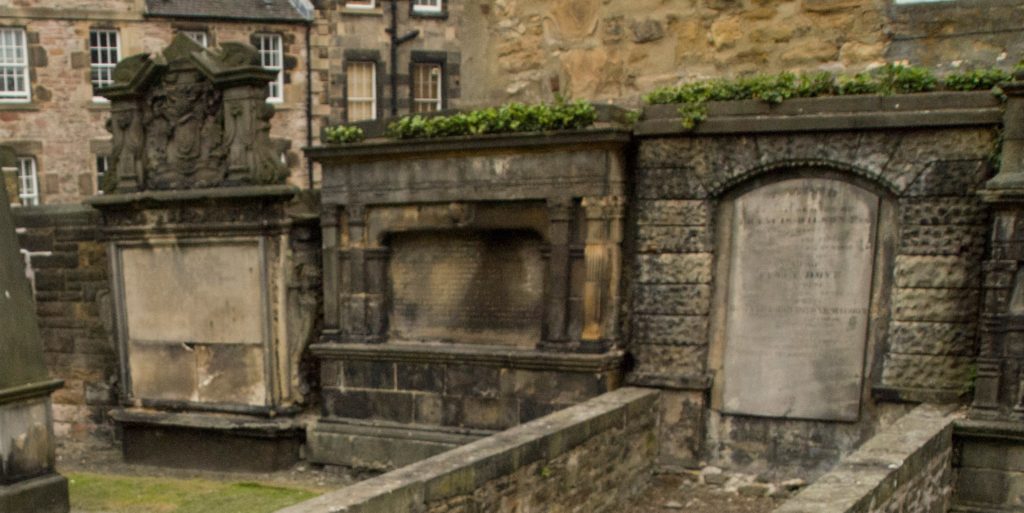 But I was more interested in this remnant of the days of the Resurrection Men: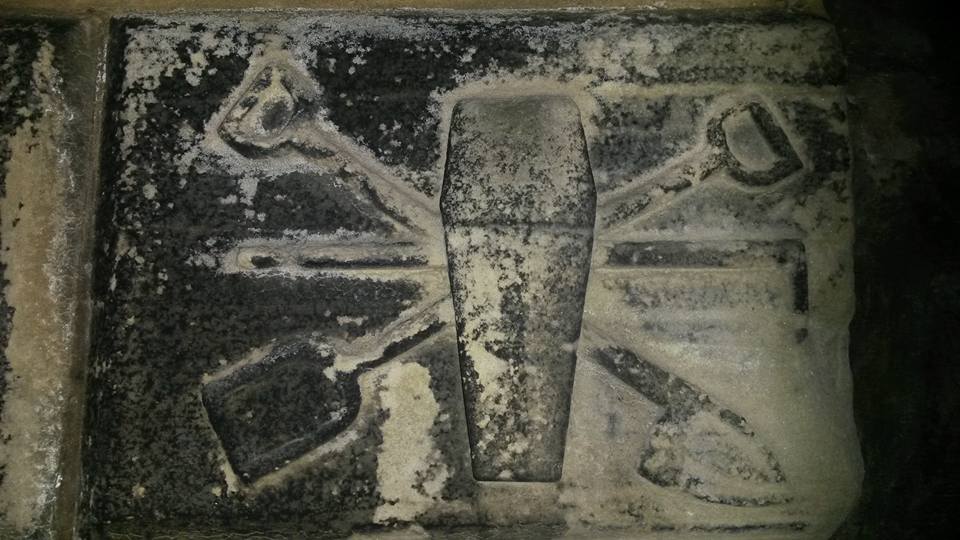 Carved into the wall that leads into a part of the kirkyard that is usually kept locked,((Before becoming an extension for the kirkyard, it was a field where Covenanters were kept prisoner. A grim and horrible time – they were left out in the elements and many died. And the ones who survived almost all died in a shipwreck, when they were sent off to the Americas as slaves. No wonder it feels like a particularly doom-laden, oppressive place.)) this design – so people say – was to deter Resurrection Men. And they were a problem in Edinburgh – the Medical School needed subjects for dissection, and it wasn't until Burke and Hare's crimes forced the issue that a change was required so that Medical Schools could get hold of bodies more easily.
The limitless numbers of the poor would do, it was decided, and so the Anatomy Act of 1832 came into being. Anyone buried on the parish, whose family and friends could not afford to bury them, was at risk of being dissected at anatomy lessons by medical students. But even this didn't help matters – the mid-nineteenth century saw a boom in the demand for medical education, and by the late 1840s Alfred Swaine Taylor was complaining in an editorial in the London Medical Gazette that getting hold of bodies for dissection was becoming very difficult. Of course, people wanted to avoid being buried "on the parish" and risk being dissected, so burial clubs became popular. For a few pence a week, a loved one could be entered into a club, and a decent burial was almost guaranteed thanks to a £10 pay out on their death. This, as one might not be surprised to learn, may have inspired several murders.
So onto New Calton cemetery, which served Edinburgh's New Town, and dates back to the early 19th century. It initially accommodated the dead from Old Calton, who were disinterred for the building of Waterloo Place.((The CWA's conference venue was directly opposite Old Calton, and it does indeed seem as if Waterloo Place sliced a chunk off Old Calton.)) New Calton has probably one of the nicest views in Edinburgh, of Holyrood Palace, Arthur's Seat and the Scottish parliament building.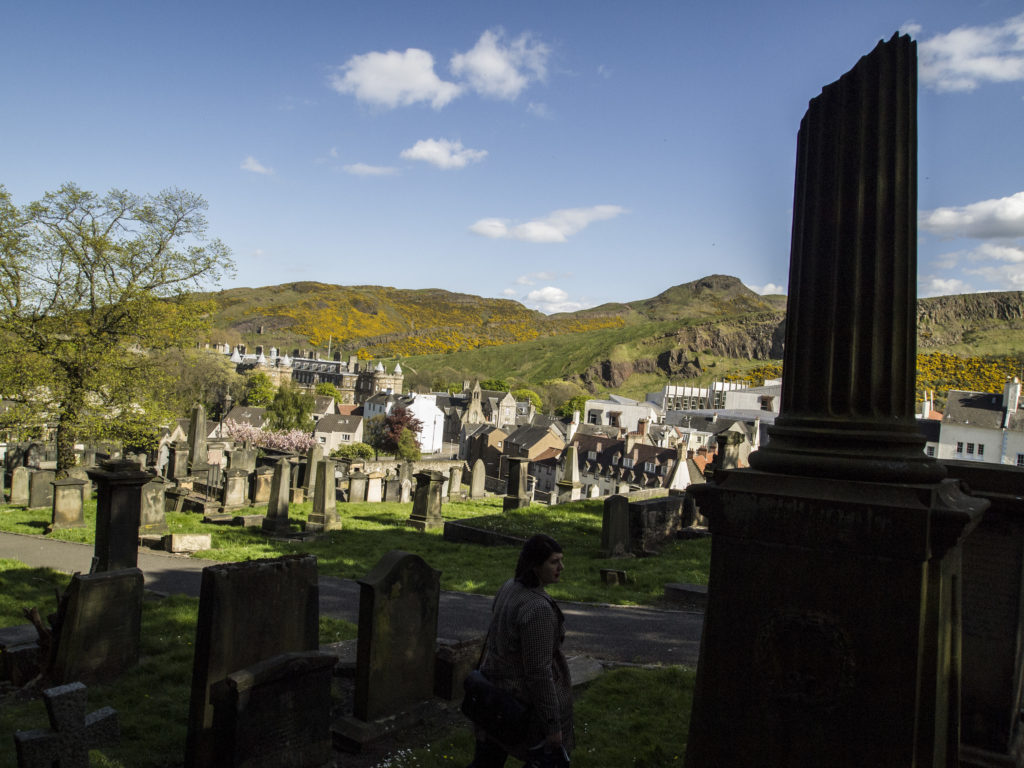 I found the Christison family plot – there's a lot of people in that grave! And strangely, though I didn't know it at the time, the memorial tablets are made from almost identical stone to Alfred Swaine Taylor's grave in Highgate. I noticed, on looking at the names, that one of Christison's granddaughters was the widow of a man called Dr Benjamin Bell. Having seen some Bell graves at Canongate Kirkyard, and knowing too of Dr Joseph Bell – famously one of Conan Doyle's tutors at Edinburgh Medical School, and apparently a man who inspired the creation of Sherlock Holmes – I had to find out more. And what I discovered was that Dr Benjamin Bell, who married Edith Campbell Christison, was in fact Dr Joseph Bell's first cousin!
So there we are. A bit of detective work there thanks to the inscription on a gravestone.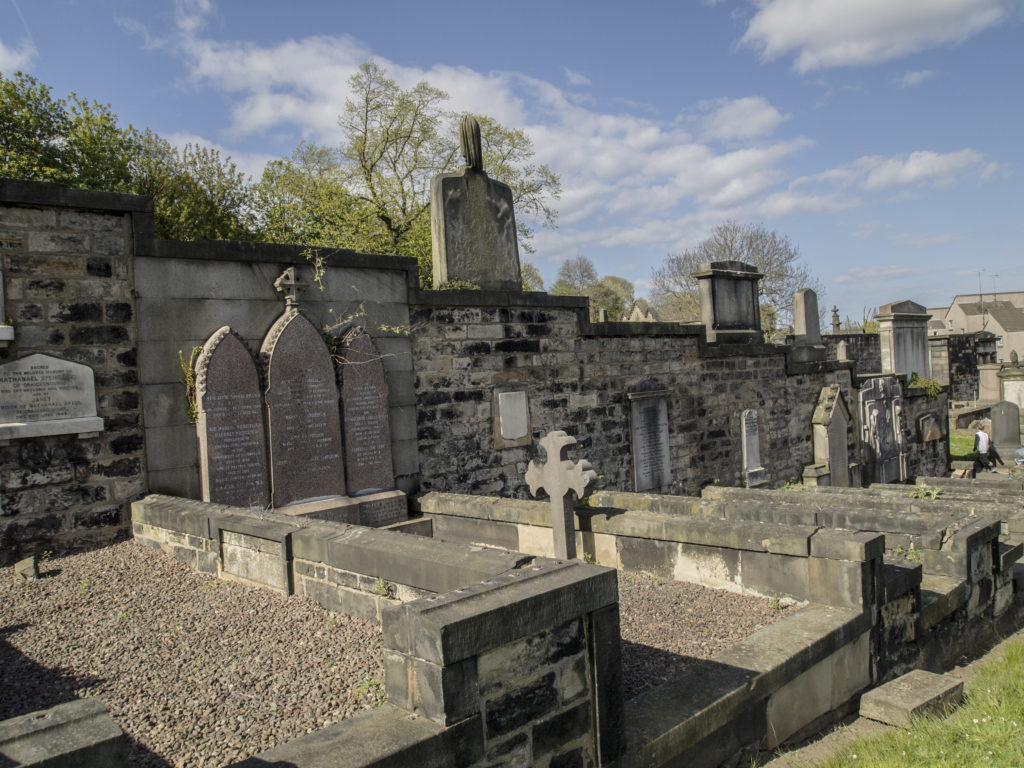 And as this trip was all helpful insight for my book, it seems only right to end with this, the vault of Alexander Guthrie, "Bookseller Edinburgh".